Handmade in Tampa, Florida - Welcome to Penny's Rosaries! Please check back for new rosaries added weekly.
My name is Penny and I have been making rosaries for over 10 years. I try to use only quality materials for my rosaries as they are intended to be used frequently in prayer and passed on down for generations. I try not to knowingly purchase any materials made in China, as I have a problem with the quality and safety of the materials, in addition to the human rights violations in China.

To purchase a rosary from this website, click on the button of the one you are interested in, and a new page will open at Etsy.com, where you will be able to safely purchase your rosary. If you click on it and nothing happens, then it is currently sold out. You can fill out the contact form below to order one. Please email me for prices on International shipping. I use Paypal for easy credit card or E-check payments.
* My rosaries and other gifts are not intended for children under 14 years of age, unless otherwise stated.
Pro-Life (Let Me Live) Rosary - $28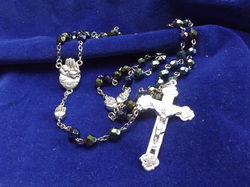 Click on image to enlarge
I found these wonderful parts to make a Pro-Life rosary. The center and the Our Fathers are silver 3-D images of a hand holding a tiny baby. On the palm of the center, it says "Let me live". These are really neat. The beads are a 6mm blue iris faceted crystal. I will also be making these with a aqua faceted bead.

---
Rosary of the Precious Blood of Jesus- $40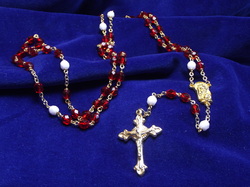 Click on image to enlarge
This rosary is a devotional one I recently was asked to make. It is made with 6mm light siam red faceted beads and opaque white ones. It has a gold crucifix and center. What is truly unique about this rosary is there are 12 beads in each decade. There are instructions on how to pray this rosary at this link:
Rosary of the Most Precious Blood
It is a beautiful devotion.
---
Mary, Undoer of Knots Rosary - $38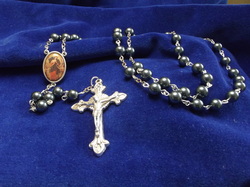 Click to enlarge image
It has come to light that our newly elected Pope Francis has a favored Marian devotion to the Undoer of Knots. Pope Francis became acquainted with Mary Undoer of Knots while studying theology in Germany in the 1980's. He promoted the devotion upon his return to Argentina. In fact, he presented a silver chalice engraved with the image to Pope Benedict XVI after his election. "Eve, by her disobedience, tied the knot of disgrace for the human race; whereas Mary, by her obedience, undid it". - St. Irenaeus, Bishop of Lyons, 3rd Century
The first one is silver finish with the Undoer of Knot image on the center. The beads are 7mm Swarovski pearls in Tahitian. It is a beautiful greenish-gray color. Each rosary comes with the novena booklet.

---
Rosary Cases - $3.00

Click to enlarge image
Here is a sample of the rosary cases I have. The ones on the left also come in white. If you want to include a case in your order, let me know, and I'll add it.

---
I'm a graduate of the University of Dayton. They are a Catholic and Marianist institution. They have the world's largest collection of printed materials on the Blessed Virgin. Here is a link to
The Mary Page
, where you can look at galleries, news, prayers, etc.